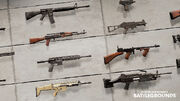 There are various amounts of Weapons in PlayerUnknown's Battlegrounds. Some weapon drops vary in rarity. Players are able to loot most of these weapons from the world as they play the game, except for some of the more powerful ones, which are only be available from Care Package drops during the rounds. They are also be able to modify weapons with variety of attachments such as compensators, suppressors, scopes, foregrips, extended magazines, and others.
Sound
Gunshot
Each gunshot sound heard in game has propagation delay based on distance between source and the listener
The propagation velocity is 340m/s so if a pistol is shot 340m away from listeners, they will see the muzzle flash first and hear the gunshot after 1 second
If a gun is fired from indoors or there is no direct or approximate line of sight (obstructed), the reverb effect and LPF are applied to the sound effect
Bullet Crack/Whizz Effect
Bullet crack effect (or bullet bow shockwave) is generated when a supersonic projectile passes in close proximity to the listener. The effect can be heard in a closest point on bullet trajectory line. Basically, the sound source is always perpendicular to the trajectory line, so if players hear a bullet crack just in their left headphone, they know that the shooter is either directly in front of or behind them.
Most of the weapons are supersonic. This means that players will hear the crack/whizz before they hear the actual gunshot. In a scenario where they see a shooter 1000m away, using AWM (>900m/s muzzle velocity) the events will occur in such order:
See the muzzle flash
After ~1 sec hear the crack/whizz (assuming no air drag)
After ~3 sec hear the gunshot
Bullets passing close to the player will generate a crack sound, the ones passing further away will only generate whizz effect. Different sound samples and blended based on distance (the maximum distance and attenuation characteristic is also affected by suppressor attachment). The close gunshot sounds louder and more clear than the distant ones.
Recoil
Recoil is based on multiple variables which uniquely define a weapon's recoil characteristics, such as: vertical and horizontal kicks, recoil speed, shot recovery speeds, degree of variation, magnitude of recovery and horizontal kick tendency.
Weapons List
Patch changes
Community content is available under
CC-BY-SA
unless otherwise noted.